It's hard to imagine any business' social media strategy without Instagram and its most applied feature.
Yes! I'm talking about Instagram Stories that have become more popular than Instagram Posts. With this feature, you'll easily promote products, tools, or messages you may want to share with your audience.
You can reach more people, interact with them, and most importantly, generate leads by using Instagram stories.
And knowing how to add a link to Instagram story is the key to achieve all these. There're different ways of doing it. And we'll get to it soon. 
Valuable information waiting for you below:
PRO tips on adding links
What Swipe Up is
And tricks if your page doesn't meet Swipe Up requirements
How To Add A Link To Instagram Story?
As I mentioned above, there's more than one solution at your disposal. Depending on your purpose, you can choose one below.
Basic link sharing – If you want to drive your audience to the latest blog post or youtube video, this option will work for you. Just share a teaser of your blog or video, and ask your fans if they wish to continue.
View product – It lets your followers tap on shoppable links to see product information inside the Instagram app. What a time saver for them!
View shop – With this feature, your Instagram shop profile is one touch away for your potential customers. Add it to your page and posts, and get the most challenging part done. Now it's time for your selling skills.
View the collection – You may be asking how to add a link to Instagram story to drive people directly to your products. Use the "view the collection" feature. It's only available to businesses using Instagram Checkout. So only US-based and a select number of companies may benefit it for now.
What is Instagram Swipe Up?
Before learning how to do a Swipe Up on Instagram, we'll look into what it is and why it's crucial.
This feature makes it possible to open a link without leaving the Instagram app. Viewers can swipe up on a story or tap a sign at the bottom of their screen to access a link.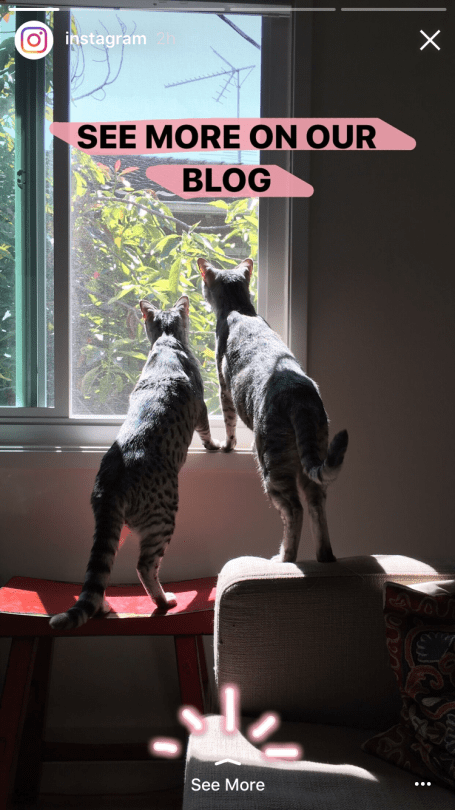 It's also a simple method to support diverse content and products while providing comprehensive analytics to optimize stories.
Requirements for Swipe Up
If you haven't reached 10K (ten thousand) followers on Instagram, unfortunately, you can't use Swipe Up feature unless your profile is verified.
And considering you've got a little-to-no chance to get that fancy blue tick with lower than 10K followers, you better get those fans first.
Still don't meet any criteria? It's OK. I will help you out.
How to do a Swipe Up on Instagram?
It's quite simple even if you're trying it for the first time. See all the steps one by one below:

1. Log in to your Instagram profile and tap the camera icon at the top left of your screen.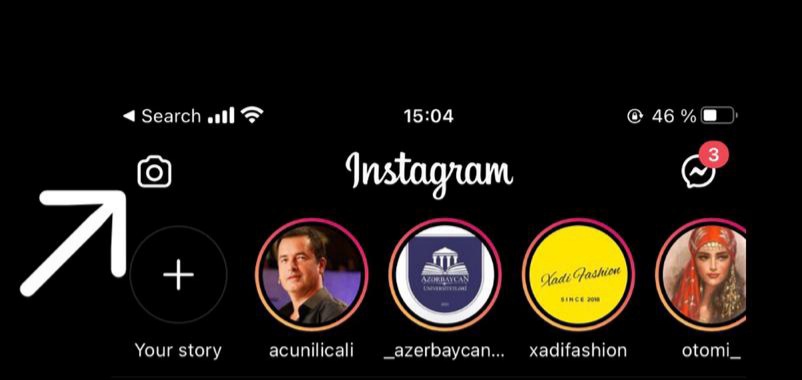 2. Take a photo or record a video in the app or choose an existing one from your gallery.
3. Tap the link icon in the top centre of your screen.

4. Input your link (or paste if you copied it from somewhere else); regardless it's URL or IGTV.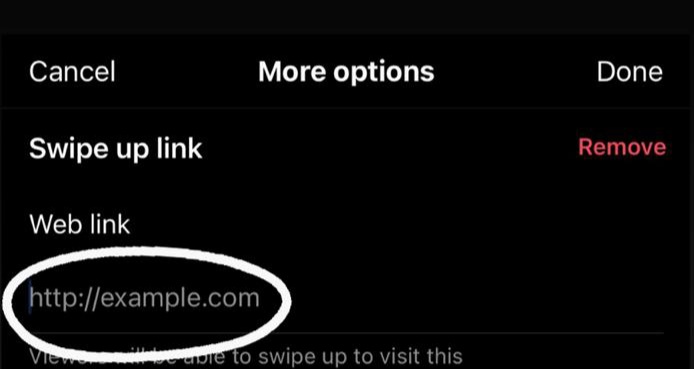 5. And finally, the last step: If you're using an iOS, click Done. If you're on an Android device, tap on the green check.
Tricks if you don't meet the requirements for Swipe Up
Well, you can still achieve your goals without Instagram Swipe Up. Sit closer. We've got alternatives.
These are tricks that I personally practised when there wasn't a massive audience following my Instagram pages. So they are tested and proven.
1. Create a poll
Getting answers from your fans without boring them is always a tough challenge. But asking questions on a high-quality content can make a difference. How?
Simple. Share a piece of content in your story. And create a poll asking people if they want the link to the full version.
After a while, go to your poll answers. Note the ones saying "yes" to your question.
Now, you have engaged people in front of you—time to send them a link via direct message.
2. Use your DMs
Share a story and let your followers know that they can DM you for a direct link. And then, send the link to people requesting it.
It's quite straightforward. But this method is going to make them feel special. After all, who wouldn't desire to be treated individually?
3. Link in bio

Putting a link in your bio on Instagram is a must and an easy way to get traffic.
Some neglect it as if this approach doesn't attract enough attention. But considering this one is free, what do you have to lose? A few seconds?
Now, you know how to add a link to Instagram story. Initially, you can try all the methods we've covered, but the businesses should also have long-term strategies to sustain and grow.
That is why I'll give you a few valuable tips that can benefit your long-term perspectives.

Free tips for sustainable growth
You probably hear a lot about regular posting. Consistency is a key here, as it's in many fields.
I've been using this approach for a long time and seen tremendous outcomes. Don't you believe me? Google it.
You'll see hundreds of studies proving its effectiveness. The more stories you post, the better results you're bound to get.
In other words, try to post at least once a day, of course, if it's possible. However, this doesn't mean you should share irrelevant materials to maintain your regularity.
Secondly, focus on quality hashtags. There's a reason why we, digital marketers, take much of our time to research hashtags, especially when it comes to small and medium-sized businesses.
Considering their limited marketing budget, we have to utilize all the possible free ways to gain customers.
PRO tip: Instagram lets you use only thirty hashtags which are more than enough. That is to say, use no more than ten.
The last but not the least tip is to prefer video content to others. You can share video content on various topics, meanwhile increasing the engagement rate.
Go live! You will be the first people see in their stories section. Instagram put you on the top left of the screen when you're broadcasting live.
In conclusion, knowing how to add a link to Instagram story is crucial, and its effect on sales is remarkable. Success on Instagram is unlikely without having a well-managed Instagram profile, whether your purpose is getting more followers or significant sales figures.
---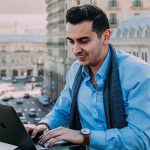 SaaS Content Writer & Copywriter specializing in Digital Marketing Automation Software. 6+ years of writing and creativity. The more you pay me, the less I'll write. A few of the past clients: Leo Burnett, Translated, Airbnb, Samsung, Huawei, Mirinda, etc.
All author posts