When it comes to fast and cheap communications at hand, WhatsApp definitely pops into our minds. However, some small business owners still overlook the multiple benefits of WhatsApp Business.
Are you still using your personal account to run your small business?
Read on.
You need to know that the personal version of this app is not enough to do business well. You can now simplify your everyday working communications with WhatsApp Business.
It's always better to go with a more specific tool so you can save a lot of effort and work smarter.
But why WhatsApp Business?
Using this messenger properly can save you a considerable amount of time, money and resources. Simply because it's a free and reliable tool, WhatsApp Business can help you revamp your whole
internal communications: avoid misunderstandings and fill staff in easily
marketing moves: promote your products and services fast in a more personalised way—yet automatising whenever possible
customer support: provide quick and high-quality customer service that feels friendly but professional
What's more, with WhatsApp Business you can provide your clients with all the important details about your company. For example, in your profile, you can easily display your:
location
opening hours
website link
phone number 
as it's the case with Sandra's Cakes in this image: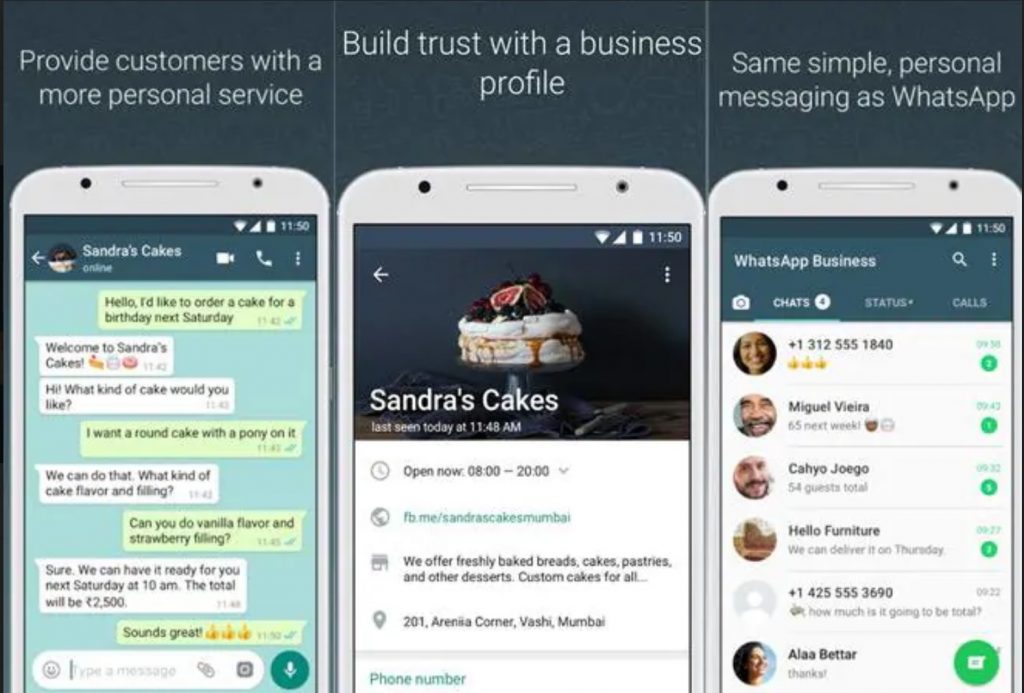 This business information is crucial to driving traffic to your website since half of the traffic to sites comes from mobiles and not from desktops.
We take our mobiles everywhere—and WhatsApp with them, of course. Also, someone can spontaneously go to your physical store if they realise they're in the same neighborhood.
1. Internal communications
You and your employees need to be in touch with each other to run your business like clockwork. As well as with a personal account of WhatsApp, WhatsApp Business allows you to create group chats to talk with more than one person and save time.
And this is a great resource because if you implement a new tool for internal communications you have to train the staff. However, with WhatsApp Business that's not necessary. Everyone's already familiar with the tool.
The advantage of group chats here is that employers and customers can communicate in a more transparent way.
In addition, with WhatsApp business, you can organise and classify your type of interactions using labels. Categorising conversations thematically helps you know the topic at a glance (and you can create as many custom labels as you want).
In the long run, labeling saves you a lot of browsing and scanning time.
2. Marketing and Advertising
One of the advantages of using WhatsApp Business with your customers is that you can avoid making direct phone calls, which are not appreciated nowadays.
Using this instant messaging tool will get you a higher response rate.
This app also gives you the chance to be more casual in your communication style than when you write e-mails. With just short Whats App messages you might get quicker responses because everybody is already online there. 
That's why you should totally use WhatsApp Business to send regular updates to your clients on your:
special offers
sales 
news in the industry
Also, this way of communicating with your customers feels very personal even if you decide to go with chatbots to answer questions—and mimic human interaction.
If you learn how to use marketing automation tools to your benefit, you can succeed in challenging areas like lead nurturing and conversion rates.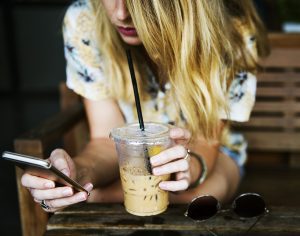 3. Customer service
Maybe this is the best WhatsApp Business feature!
If you don't want to hire a person to answer your client's questions, you can use the automation tool to send messages when you're unavailable.
And this is a perfect fit because when customers need assistance, instead of calling a helpdesk, they'd totally prefer to reach you through WhatsApp.
Automation tools help you avoid answering the same questions over and over again. The preformulated quick answers with a self-generated abbreviation and a slash can save you a lot of time.
So you can, for example, prepare:
FAQs about your products or services to get ahead of the common questions and scenarios
A short purchase confirmation message
An automatic reply when you´re away for lunch, or on holiday
Video tutorials to make sure clients know how to use your products
How-to audio messages for the same purpose
Templates for greeting your clients on their birthdays (which you can personalize later)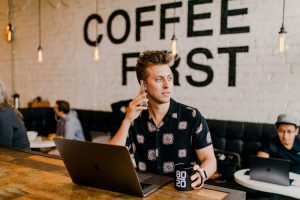 WhatsApp Business automation tools can help you provide amazing customer experience and that can spread the word about your company.
A positive word.
Keep in mind that word of mouth is still one of the most effective marketing tools.
Nowadays, clients need to feel important and cared about. So it's paramount that you answer every message and solve every issue.
But it's also important that you can simplify everyday communications and that you can avoid customer service burnout.
More benefits of WhatsApp Business
Fortunately, analytics is available for WhatsApp Business. As with other social networks, they can give you some important information about the number of messages that were:
sent
delivered
received 
read 
through your business account.
Analytics are on their way to be refined for WhatsApp. Nevertheless, counting with basic information about your demographics can help you gain a lot of insights to refine your upcoming marketing efforts.
Do you need to build a solid social media strategy for your company?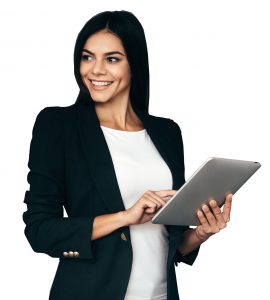 50 Pound Social gives you the consistency necessary for your digital marketing mix.
Are you running out of time?
Too overwhelmed by the light speed of social media?
Do you find yourself in dire straits when trying to curate content?
No matter if:
you need to start a blog to drive more traffic to your website
you want community management services for Facebook and Twitter
it's vital that you run a successful Facebook campaign
you're attracting the wrong kind of client—we help you target the ideal type of user who's going to buy from you!
Say bye bye to social media headaches.
50 Pound Social takes the digital marketing burden off your shoulders.