The networking site has dramatically changed. Its early beginnings back in 2003 lacked the distinctive immediacy and complexity that we know today. New Linkedin tools are available now to easily improve your everyday experience. Almost sixteen years later, the platform is a stone pillar of any digital marketing mix that no business should ever overlook, regardless of their size. Nevertheless — as with each and every social media platform — there´s always more than meets the eye.
Online competition is becoming fiercer than ever. Thus, companies find themselves redoubling their efforts to generate more leads and stay on top of the game. Luckily, for these purposes, the professional networking site offers cutting-edge features to help entrepreneurs revamp their marketing strategy and expand selling horizons as a result. If you crave to ensure your brand stands out from the crowd in 2019, you´ll want to pay close attention to the following.

Where´s LinkedIn Standing Now?
In case you´ve been super busy running your company (and against the clock before Christmas) don´t worry! Avoid gleaning bits of information in a rush. Let´s just zero in on five striking facts:
LinkedIn ranks

first

when it comes to sharable

high-quality content 

— 

remember

content is king

? Well,

content will always be king

, especially here!

The social site features now more than

590 million active professionals 

— 

endless networking opportunities

Two new profiles are created

every single second

The platform is the

#1 channel

preferred by more than 90% of B2B seasoned marketing experts

It drives

more than half of the traffic

to blogs and B2B web pages
4 Recent LinkedIn Features to Boost your Leads Now
If you haven´t applied these brand new tools yet, you´d better keep up and prepare for a 2019 full of new challenges…
Voice Messaging
You used it first to get in touch with family and friends. Now, it has arrived at your inbox! Voice messages always come in handy to provide detailed descriptions when multitasking. Less invasive than a phone call but much warmer than an e-mail, they might be one of the most humanized communication channels. Avoid possible misunderstandings inherent to the written form. Show your personality through this auditory resource. Of course, don´t forget to always keep it business-like and professional.
Objective-Based Advertising
For the betterment of ads, LinkedIn has proudly announced its beta released objective-based advertising with several improvements. One highlight is a refurbished design to make the campaign manager more approachable and intuitive than ever. This new feature is available for users from November 14th, after undergoing an entire overhaul. A number of state-of-the-art tools have been implemented to simplify yet polish advertising campaigns. Ready to meet the expectations of current digital marketing trends?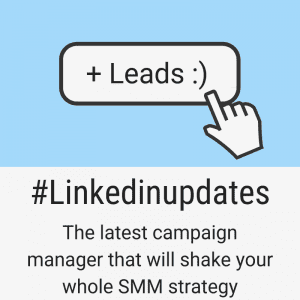 The New Campaign Manager in a Nutshell:
Instead of roaming through a series of pages like before, users can navigate within

one single flow

Updates are bound to

upload faster

The manager offers a

result forecast

based on campaign input

Advertisers can now see a new type of

preview of the live ad
Latest Office 365 Additions
Last year was the turn of profile cards on Office 365. One year later comes the possibility of increasing the effectiveness of business meetings even more. Bridge the virtual gap with highly personalized sessions with the recent merger between LinkedIn and Office 365. If you authorize the connection between both accounts, it´s possible to quickly come up with the right icebreaker seeing the status feed of a contact in your Outlook calendar. This way, you will avoid taking a look at the participant´s full profile outside Office — a waste of time. If you have privacy concerns, sensitive data is being fully protected. Each user can choose freely among different sharing options. Information about the topic of a meeting as well as other details is never going to be shared. The two companies seem highly compromised with privacy issues and thought everything beforehand.
Showcase Pages
For the ones who aim to target multiple audiences and boost long-term engagement, some basic know-how about Showcase Pages is mandatory. Taking the example of Salesforce, you can easily notice how they have created as many pages as lines of business. But, what is a Showcase Page exactly? It´s simply a subpage of your company main page! Should you create yours? Absolutely. LinkedIn pages are marketing tools on themselves. Break up your audience effortlessly and carry out sophisticated analytics!
Some Major Showcase Pages Used by Salesforce
Other possible scenarios to benefit from this tool:
Separate products from services using diverse Showcase Pages that can stem from the primary
Initiative

Showcase Pages are ideal when you are carrying out a specific charity event that you want to share online

Events

and

Marketplace

Showcase Pages are specifically designed for these purposes
Last but not least, it´s deeply important to bear in mind that Showcase Pages cater for those businesses that have mapped out a long-term marketing strategy — not a short one.
All in All
Hoping that you can now understand LinkedIn on a cellular level, here´s a recap to apply every feature to your company page:
Let

voice messages

join your communications game to sound more personal in your daily conversations

Explore the new features of

objective-based advertising

and target like a pro

Establish meaningful bonds at meetings linking

Office 365

to your account to know more about your colleagues

Take your social media marketing strategy to the next level with

showcase pages

to sort different target audiences