It's been a while since we last talked about LinkedIn. Overlooking this tool can really harm your business.
Let's see why.
What's social selling?
In simple terms, social selling is your ability to achieve your business goals through the effective use of social media channels.
Today we're going to focus on LinkedIn only, but social selling needs to happen in every social media account you're on.
That doesn't mean that you have to be on each and every social network.
But you should totally be on the ones your audience is.
Social selling entails a wide range of actions depending on the stage where your business is and your particular goals at that time.
Social selling can range from engaging in the right conversations before launching a product to being able to manage your online reputation once the company is well established.
If you're a solopreneur, it's a must that first thing you work really hard on establishing your personal brand so that you're clear and relevant enough to your potential market.
Learn more: Start with personal branding in 2019 — from scratch!
Looking professional, knowledgable and helpful in the online universe is only up to you. Because people always decide to do business with professionals they know, like and trust.
LinkedIn is the perfect environment to prove it.
Conversely, if you're managing a team, the whole group needs to understand the social selling objectives of the brand because these will dictate daily online moves through a clear and purposeful course of action.
Why is social selling so important on LinkedIn?
LinkedIn is a super powerful marketing weapon. So, you should work on your social selling to be a "top of mind" company or professional.
That means, you want to be the first person or business to be remembered when your ideal client encounters the problem you can easily fix.
People and businesses are looking for solutions to their problems all over their LinkedIn network.
Some tips:
Use your LinkedIn connections wisely because they're not unlimited
Carry out proper audience research that aligns with your business goals
Think deeply about potential clients and the difficulties they face
Inform yourself about a company before getting in touch
Engage in important conversations that are happening in your field and show that you really care and know about the topics
Create an active Company Page apart from your individual account so you can link the staff accounts to the page
Even though each niche and industry have their own distinctive features, it´s undeniable that LinkedIn can totally fuel your startup(s), building valuable connections that can change everything for the better.
How to understand social selling on LinkedIn?
Fortunately, there's a free tool that you can access once you´ve logged in to your LinkedIn account.
Follow this link and you will find a dashboard which looks like this: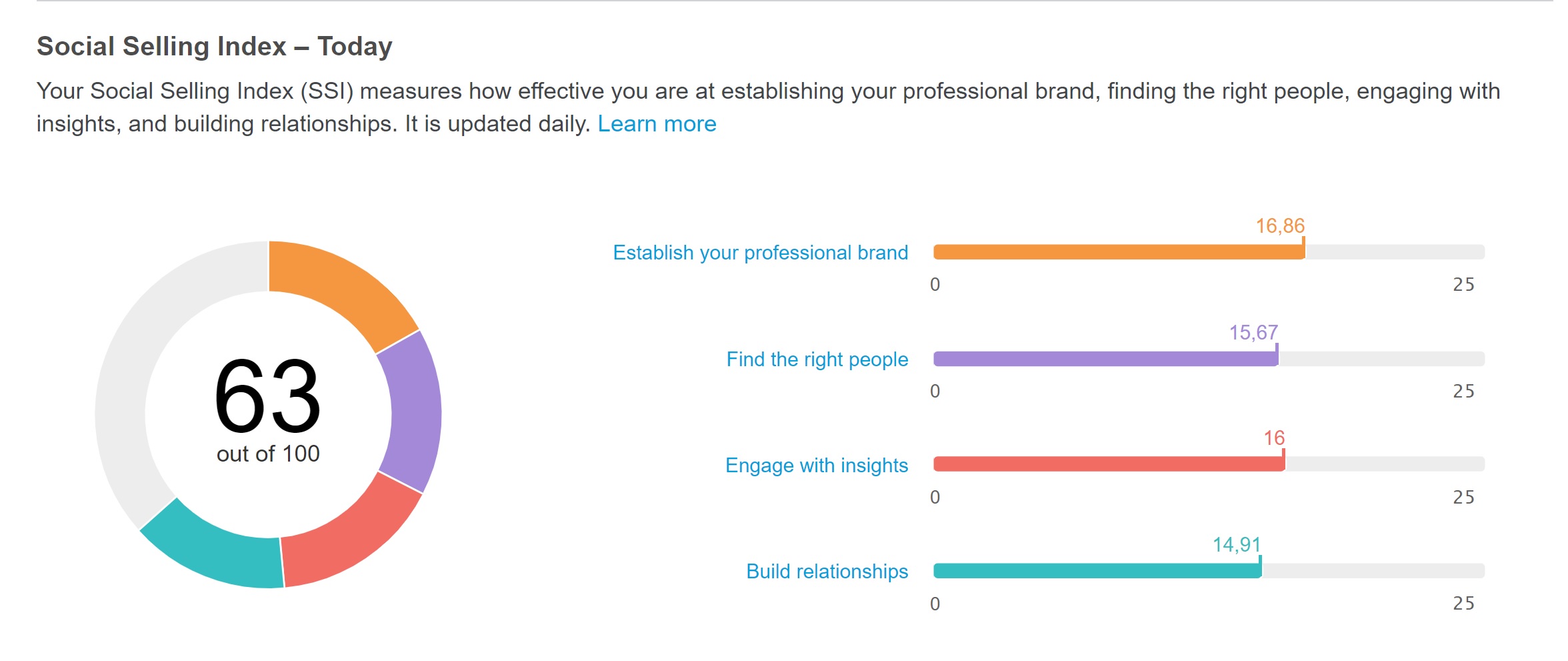 This tool shows you a unit of measure called Social Selling Index (Or SSI).
It's a number out of 100.
In this case, we see that the SSI is 63/100. The closer to 100, the better.
But there's more to it. As you can see, this index is made up of four items:
Establish your professional brand
Find the right people
Engage with insights
Build relationships
Each of these four is scored from 1 to 25 and the dashboard will show you where you are standing so you can make the necessary adjustments.
For example, if #1 is weak, it may be because you lack a personalised cover photo or your description is not clear or specific enough.
But if #2 needs more work, it may mean you're not adding relevant contacts to your niche, regardless of the number. (LinkedIn's algorithm can identify if you're adding relevant people in your field or not.)
Why you need to sell yourself on LinkedIn
1. Working hard on your profile helps you establish yourself as an authority in your niche and think about what works and what doesn't. You'll have to check if the SSI rises when you make a smarter use of your profile. It's also interesting to see if your profile views have increased with the adjustments you made.
Another major thing: If your LinkedIn profile is alive and kicking, you'll appear on top of search engine results.
2. It's an amazing opportunity to think about what distinguishes you from the competition and refine your value proposition. Sometimes the perception you have about your company is not what prospects are getting. But you can totally correct that by understanding these kinds of analytics.
3. Working daily on your SSI encourages you to build meaningful relationships that can later expand your business. But it's not about sending invitations to anyone. It's about an effective marketing networking strategy.
(This is going to be one of the topics for the upcoming blog posts.)
The idea is not to collect mere profiles but to build a really meaningful network.
If you want to know all the ins and outs about how to build a brand on LinkedIn and see a lot of empowering success stories, check out this book with a lot of helpful information (in Spanish.)
But wait.
Is your LinkedIn account incomplete, inactive, or maybe lacking personality?
50 Pound Social can boost your presence on LinkedIn with effective social media management that will automatically increase your social selling index.
And your business opportunities, of course.
Some of what you will enjoy
Content curation: We find engaging information that your audience will adore; like videos and articles
Content creation: We come up with original and regular content (such as social media publications and blog posts) that establish your brand as unique while your website ranks higher
Consistency: There's no point in embracing social media if you're not going to be there regularly. Consistency is key to see tangible results
Relevance: Users see so much information every day that they need content to be super clear and problem-solving. People are looking to be helped — not aggressively sold to!
Visibility: Content needs proper distribution in different channels to be discovered online. There are different peak engagement times for each social media channel and they are super dynamic
Good news is…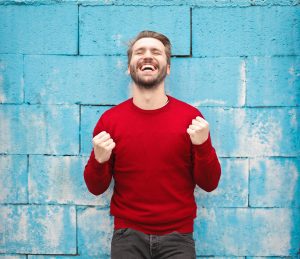 Both the Premium and the Deluxe plans that 50 Pound Social offers include LinkedIn management, apart from a lot of other marketing savers that will free you up a huge amount of time and stress.
Choose what's best for you!
We're here to help.