I don't need to tell you how much and how fast Instagram is growing. With 1 billion active users per month, the selfie platform is positioning itself well. It mirrors Facebook's activity level with more than 60% of Instagram users logging in daily to the social platform.
But today, I'm here to walk you through the wide scope of possibilities that you have if you need creative posting ideas for your fashion brand. Good news is, as the Instagram vibe is all about sharing extremely cute photos, fashion companies have definitely some room to grow.
Maybe you're selling handmade purses or you decided to specialise only in the fashion of the 80s. Whatever your style choice is, it's obvious that you must embrace Instagram to beat your competitors. Are you going to miss the online combat?
Roll up your sleeves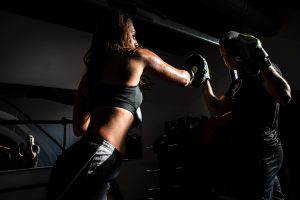 Because here are some interesting tools for your next Instagram session:
An Instagram story is bound to trigger curiosity:
According to Neil Patel (the Alexander McQueen of digital marketing), the ideal number of stories per day to boost engagement is 9. Yes, I know it's a lot to ask but it's totally worth it. This will completely increase traffic to your account.
It's not necessary that you come up with 9 different story ideas per day. You can split only one piece of content into 9 different parts. But, what you'll need for sure is a lot of organisation, community managers and content experts.
Set up an Instagram calendar if you haven't got one yet. You can use these ideas, adapting them to your own fashion brand identity.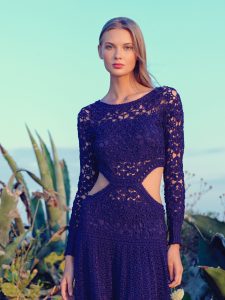 Video is important but live streaming is the summit:
We've talked before about how to apply effective video strategies to market yourself better. But, to summarise, the best you can do is to go live whenever you can. That'll engage followers and will bring you new ones.
People are just as curious about live video as with Instagram stories.
If they see someone going live, they'll just step into the scene. And that's the engagement you're looking for in your Instagram profile. Imagine live streaming the London Fashion Week.
Wouldn't it be charming for your audience? Pamper them. But, how exactly?
Let's take a look at these 3 examples of brilliant Instagram marketing campaigns for fashion stores:
1. The 5th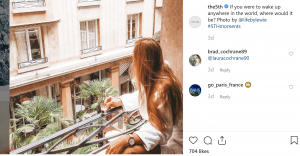 Take this post of the 5th, one of the multiple companies founded by Greta Van Riel. You can read her whole success story to the top here. What Gretta's marketing team does is to highly involve clients in the brand´s Instagram account.
If you pay close attention, you'll see that it's not about Gretta, it's not about the watches. It's all about the customer. Real people showing what they're doing. And then a short, but powerful, thought-provoking phrase:
"If you were to wake up anywhere in the world, where would it be?"

Photo by @lifebylewie
In this case, we see Lewie tasting the delicious view of a French window. As you can notice, there's a hashtag called #5THMOMENTS and that's another super clever move from the social media marketing lens.
Have you thought about your own brand's hashtag? If it's something super original, your brand's name could totally be the hashtag you'll want to spread. Another idea could be the use of the word "tribe" in the phrase.
For example, going back to the purses example, you could initiate the #MyNewHandmadePurse or #PinkPurseTribe movement. With photos of your clients wearing your products, of course.
2. Nike
"To dream big requires courage" is a motivational quote that Nike used in a post that got more than 300k likes on Instagram.

Another awesome move this brand pulled was calling all the clients athletes. You can see that in their Instagram bio along with the phrase "If you have a body, you're an athlete" plus the classic #justdoit.
It's easy for a big company to partner with sports stars but if you happen to sell sports goods, you can partner with a beginner athlete so you both join forces.
3. Epoch Handmade Fashion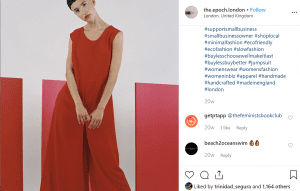 This team got super creative and went beyond tradition with dramatic and impactful photos. From black and white, random objects, limbs, disruptive makeup, to abstract concepts, they know how to call your attention on the past-paced Instagram feed.
If you're only posting photos of your products, get some Instagram models today. An effective Instagram strategy for beginners is to prepare a mixture of photos of the staff, products (with models this time), and quotes and then rotate them with a fixed day for each category.
For example, on Monday you can share the quotes, on Wednesdays the models can wear your products and on Fridays you can upload photos about the staff.
If you already got the hang of this, you can use the multiples stories suggested at the beginning for showing your staff behind the scenes.
What's interesting about The Epoch London is that as they sell vegan-friendly apparel, they can partner with, for example, vegan food shops with a similar number of followers. Doing a shout out with these kinds of accounts is always a win-win.
Give it a thought. Who could you partner with? Do your research. Maybe your vertical market is music, visual art, astrology, or yoga.
How can you discover your vertical markets? Place in your clients' shoes and think about their other interests. The types of accounts in other industries (not fashion) they may be following. Because they care about those causes, services or products.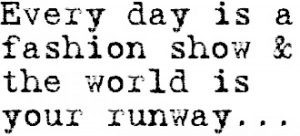 To Sum Up
Instagram is a huge world on its own. If you don't have a clue about this hot social network, don't panic! We can help you become an insider in no time.
Choose our social media marketing painless plan especially designed for Instagram engagement. Don't get behind the social media game. No contracts, no funny business. You can read our FAQs here.
Now we invite you to comment below about your favorite fashion brand on Instagram. What do you like the most about their posts? We really want to know.