I imagine you've heard or read about these concepts before – ecommerce, e-store, e-tailer – but maybe you're not completely aware of all the aspects that are involved in the complexity of online shopping. Setting up an online shop is not an easier job than doing so with a physical store. It's just different, for both the sellers and the buyers. But it's totally worth it at these highly technological times.
Along with these lines, we're going to explore what this world is all about. Operations done through the internet are becoming more and more natural every day for purchasing clothes, entertainment, food, coaching services, and several goods, either physical or digital. And there is a raft of necessary details to keep an online store running smoothly. Shall we start?
So… what's ecommerce?
It's pretty simple to provide a broad definition of the concept – ecommerce is the process of buying and selling things on the Internet. Any commercial transaction that is happening online belongs to the ecommerce arena. When we talk about "things", in fact, there are very well-organized and delimited categories according to what you're intending to sell. Depending on the type of product or service that is going to be commercialised, we can easily distinguish three main groups:
This is the exact case with freelancers, teachers, and consultants of all types. We can refer to individuals or teams offering these jobs through their own websites. Another common scenario is the use of a platform that connects freelancers offering all kinds of services to clients who need them (design, VA, writing, video editing, etc.). A classic example of the last is the popular website freelancer.com
No matter if you're a client or a freelancer, you totally can find the other part and do some business here! It's a fast and easy way to delegate tasks that you don't want to do.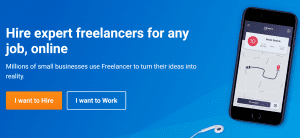 Not all online marketplaces have to sell services or physical goods. These kinds of online stores sell digital products such as e-courses, e-books, graphics, and of course, software. Here is one of the most famous e-learning portals: EdX
If you haven't heard of it yet, you'll want to enroll in more than one e-course for sure! I bet you can think of other examples of digital stores.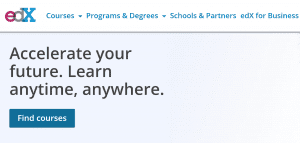 This is the category that you may probably associate the most with regular stores. The difference here is that instead of taking the product you want to the checkout, after a few clicks and once electronic payment is processed, you can pick it up or receive it at home.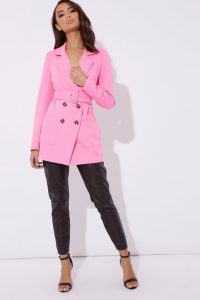 An interesting example of this category is Inthestyle.com
In case you haven't heard of it, it's a mega online clothes store – or apparel if you want to get more technical! There are attractive discounts and a wide variety of products available (women only).
Payment Methods
One of the main advantages of ecommerce is undoubtedly its wide variety of paying options which make every commercial transaction comfortable and extremely simple for the client.
You can generally pay for products and services through debit and credit cards (sometimes even with installments). Electronic wallets (like PayPal) and bank transfers are also available on some occasions, being PayPal more common than bank transfers sometimes.
Are you worried about security when buying online? You shouldn't! Online payment methods are safely set up in such a way that your delicate information remains well-protected and secure.
Don't miss the opportunities that ecommerce has to offer you in 2019! It could totally help you elevate your business, expand your selling horizons and why not, simplify your everyday life.
Speaking of which, I'm going to show you some interesting facts about the evolution of ecommerce.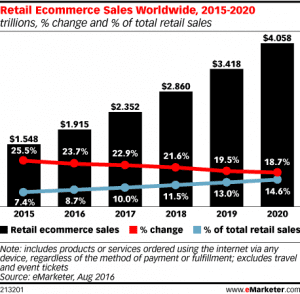 Image Credit: eMarketer.com
As you can see in the above chart, the progression of ecommerce for the upcoming years will be rapid, to put it mildly. 
The Door-to-Door Chain
After reading this you may be wondering… how is everything organised when stores sell physical products? The ingredients for a sound ecommerce transaction are many, and it is a somewhat complex process. However, there are three basic components of a successful ecommerce transaction.
A web server to make bank transactions possible since users will want to buy from any place at any time and of course, they don´t want any kind of trouble with money
A database to know whether the product is in stock and if it's not, for example, to make it possible to estimate an accurate date of arrival
A dispatch system to organize warehouses and ensure delivery, which is in fact, the only part that the client sees (apart from the transaction step at the computer or mobile)
There's no need to say that in order to own a successful e-store, all of these components have to blend perfectly! Moreover, what's is highly important is to offer a fast, reliable and clear website that invites customers to buy what you're providing.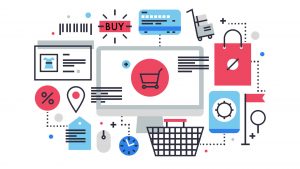 Image Credit: pmsltech.com 
A little bit of history
But when did all these online transactions begin?
In 1994, 21-year old Dan Kohn was able to sell a Sting CD to a friend in what was considered the first online transaction ever. Of course, at those times, the process was far from being user-friendly but it was possible anyway, and that's what matters.
At that point, the event didn't get many people's attention (remember that the internet and the media were not exactly what they are today).
However, this was the first step for an upcoming shopping revolution that is increasingly eliminating geographical barriers.
To remember
Let's go over the most important facts about ecommerce
It's increasingly growing
There are 3 main categories: digital products, services, and physical goods
Ecommerce began in the 90s
Payment options are wide: cards, PayPal, bank transfer
The circuit of E-commerce needs 3 pillars: a web server + a database + a dispatch system
Safety, speed, and responsiveness of the E-store website are key for users
It´s advisable to separate the desktop version of your site from the mobile website to make pages more buyer-friendly