The famous Canadian retailer is self-described to its followers as yoga-inspired. They sell clothes and accessories both for women and for men. Also, they have a lovely line for little girls only.
In fact, their collection is huge and striking.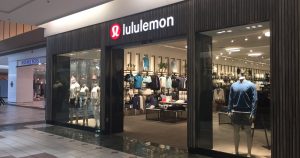 Image Credit: Democrat And Chronicle
Among the wide range of athletic wear offered within the special Lululemon's world, you can find a variety of performance shirts, pants, and shorts. Also, they sell beautiful yoga gear and comfortable lifestyle apparel.
This brand uses social media marketing to the max. And this brings a big increase in sales for special occasions, such as:
Cyber Monday
Black Friday
Holidays
Easter
Christmas
And guess what?
Online sales are on the rise for Lululemon compared to last year's figures. And solid social media marketing practices have a lot to do with it.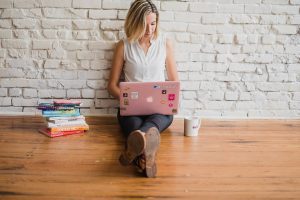 What Lululemon does on social media
Today I'm gonna share with you some useful social media examples of the use Lululemon makes of content. I hope you can get some inspiration for your own company. Get out of the comfort zone of publishing the same type of content every single day with these tips.
Apart from the obvious, which is showcasing their multiple products online, Lululemon places a lot of focus on the customer's happiness—and their real struggles. And moreover, they foster real emotional connections among the new and upcoming clients.
In fact, there's a community section on Lululemon's website where they're sharing and updating:
Stories
Interviews
Videos
Not only Lululemon features true stories about their clients but also they share tales about the staff—like personal anecdotes or shots of their latest (and fun) company event.
This distinctive section of Lululemon's site distills a highly motivational vibe.
Some of the stories are about difficult marathons or a challenging summit.
Even about a heartbreaking diagnosis that prevented a famous athlete to keep training at a professional level.
Elite ambassadors program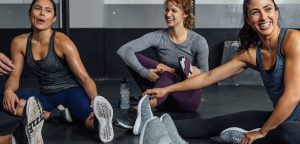 Image Credit: Well to do Global
One of the brightest marketing strategies of Lululemon is to inspire new self-driven athletes (and sporty people in general) to feel connected through their brand tribe.
The elite ambassadors' program not only retains the current customers of the Canadian company but also it attracts new clients. Everything in a natural, non-aggressive manner.
Did you know that an ambassadors' programme of this kind can increasingly boost your sales?
The purpose of the Ambassador Program in Lululemon is to:
"Celebrate and promote local leaders who reflect our culture and share our passion and dedication for elevating the health and fitness of our communities."

Lindsay Claydon, Director of Brand and Community, Europe.
Who belongs to the programme
How they nurture the initiative
The Ambassadors' Program serves as a base to carry out different company actions.
The elite ambassadors:
Organise complimentary in-store lessons like yoga instruction and running groups
Take part in global events (if there's a sweat-related event, Lululemon is certainly there)
Interact with shops and clients on a regular basis
Have a voice in the brand's design process
Test their goods and give honest feedback in order to improve products
Local ambassadors
Another clever move of this Canadian business is to choose a local ambassador of the brand in different locations. This figure has to be passionate about the fitness and the health tribe. That is to say, they have to reflect the company's culture.
Can you imagine choosing your local brand ambassador?
This type of marketing practice ignites the necessary authenticity needed to strengthen the brand's image. And make new connections with prospects.
At the same time, if local ambassadors have their own brand, Lululemon acts as a piggyback for these new small companies.
"Apart from getting to product test and live and breathe in lululemon's latest product, we provide them (ambassadors) with tools to help identify their career, personal and health goals. Once identified, we work in partnership to help them achieve anything from growing their personal training business to raising funds for their charity."
Now let's see different practices Lululemon does on the different social media platforms.
Because social media marketing is all about multi-channeling.
1. Instagram
Lululemon is of course on Instagram. Intensely on Instagram. One of its trademarks is to foster users to tag images using two hashtags:
#lululemon & #thesweatlife
The concept of "the sweat life" encompasses invitations to discover your favorite physical activity, motivational phrases to train, events related to sports and health, and of course, information and recipes about superfoods (like veggie news or the best protein shake to kickstart your morning routine.)
They also regram user-generated content, such as motivational quotes.
Here we have, for example, a yoga teacher sharing her picture inviting users to join her classes.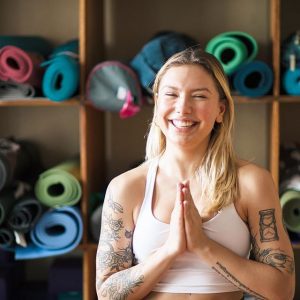 Another client shared a photo of her doing yoga with pants she bought (of course) from Lululemon.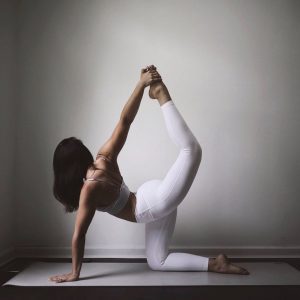 The sweatlife festival
The brand organised its own big event. You can go get endorphin high with yoga teachers, life enthusiasts, and sporty people. There's still time if you want to enroll!
2. Facebook
On Facebook, Lululemon shares blog posts about apparel and vertical markets. Also, they upload useful videos in which some of their ambassadors teach people different techniques for breathing and how to do exercises.
This is (like the elite Ambassadors program) a very clever idea from the marketing point of view.
3. Twitter
On Twitter, the Canadian brand encourages users to post content with the same Instagram hashtags (#lululemon and #thesweatlife). And they also offer customer support services, which is the most common purpose of Twitter for businesses.
4. Pinterest
On Pinterest, the company happily invites you to pin their multiple boards.
How do they divide and classify the images so they can be super pinneable?
Grouping visual content under different boards named "sweat" or telling you to "discover yoga".
One of the best boards is "gift guide: him" and "gift guide: her" so you don't get completely lost when trying to choose a present from the online store.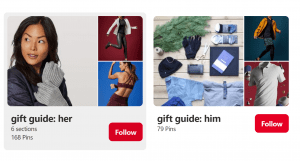 Are you having trouble with social media marketing?
You don't see yourself doing everything that Lululemon does to increase sales?
Leave it to 50 Pound Social. There are social media management plans for every situation.
Are you on a tight budget?
Don't worry.
50 Pound Social means affordable social media.