86% of today´s companies choose to rely on content marketing.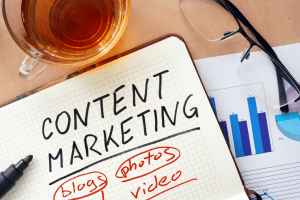 What's content marketing for?
This strategic use of marketing aims to
inform your audience
enhance brand visibility
increase your current customer base
improve your search ranking
drive customer action
And the list goes on!
The benefits of content marketing are multiple: Great content can help you, for example, build your first mailing list easily, as well as to attract influencers who could test and promote your product/service later.
But, what's great content anyways?
Content needs to have certain solid ingredients to be considered great. However, there are three major rules a piece of content needs to comply with:
Great content is valuable: Users can learn and solve everyday problems through it. Its value is what makes content sharable.
It's relevant: Great content is somewhat connected to topics that deeply matter to your audience. These will vary according to your niche.
Glorious content is consistent: There's no point in posting engaging content once in a blue moon. Frequency definitely helps to build trust and connect with your target audience.
5 smart goals to pursue through the use of content marketing:
1) Raising brand awareness
This is crucial for startups. Brand awareness follows the simple principle of being discovered in the first place. How are prospects going to buy from you if they don't know that your brand even exists?
Content marketing can significantly improve your ranking on search engines and this way, a raft of new users will be able to find you through organic (non paid) traffic.
2) Inspiring trust
If you decide to go with an inbound marketing approach, building trust is paramount. From this cutting-edge marketing perspective, we understand that people will only buy products and services from brands they feel they can like, know, and trust. Consumer behavior has radically changed over the past ten years and users deeply reject being sold to in an aggressive way. So, establishing a deep emotional bond with your customer will be vital if you don't want to push them away.
3) Driving traffic
Certain content formats (like blog posts and infographics) are very likely to drive traffic to a website and are easier to find through search engines – like Google – than through social media. If you happen to start a blog and push post after post each week, users will be able to find your content even months or years later, as long as it stays relevant to them.
4) Analysing performance (and adjusting accordingly)
Content marketing is nothing without proper metrics that measure specific aspects. As long as you have a clear content marketing goal in mind, it's easy to find the tools to measure the success of your content strategy. These kind of metrics are ideal to reflect upon what's working and what isn't and refine your content marketing mix according to performance.
5) Bringing users back to your site
If you've already got yourself a solid customer base, that's awesome. However, your job isn't over. Now you'll have to retain clients! And content is a fantastic ally for this challenge.
New content is always attractive to past customers who can buy from you again because they already know you, like you and trust you.
And what's more, they can recommend your product or service to other people. Remember that word of mouth is the oldest (and still one of the most effective) marketing tools ever.
The 4 stone pillars where content marketing stands:
1. Customer personas and target audience
Before planning any content strategy, you need in-depth research about your target audience. A customer persona is a fictional representation of your ideal client. From what they like, to their level of studies and income and their pain points. If you don't know every single thing about your target market, it'll be impossible to generate valuable content that resonates with them.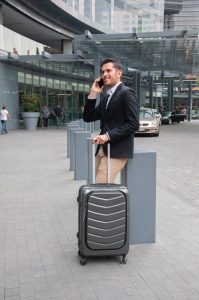 2. A sound content strategy
An effective content strategy is full of details and requires a lot of time for planning. Some of the basic aspects that a content strategy must cover are keyword research, peak engagement times and content formats your target audience consumes. It's also necessary to find out which social networks your prospects are.
3. Quality and promotion
It's proven that long and deep content performs better than superficial content. It's better to promote fewer pieces of content that are highly valuable than a high volume of sloppy content. This way, you increase your chances to be shared more and respected as an authority in your field.
4. Syndication
Syndication means republishing website based content by a third party website. It can be done through any social media channel and with any content format. Syndication makes sharing more likely to happen. However, syndication is no easy task. Since search engines punish duplicated content, you can't simply copy and paste content. You´ll need to publish the same information without using the exact words, but still target the same customer persona through the social media channels they're on. Here's it's key that the social sharing buttons are visible and accessible to users.
The beginnings of content marketing
Some might say that John Deere was the pioneer of what we know as content marketing. In 1895, he published the first issue of "The Furrow", an agricultural magazine which published print ads. This is the longest running branded magazine still published at present. During the first ten years of publication, the magazine was able to reach millions of readers.
This magazine ignited a whole movement which other companies followed. For example, Michelin launched free travel guides to boost interest in cars. Also, Proctor & Gamble started a famous audio content called soap operas. It´s not the same as podcasts, but the spirit is similar.
Of course, social media has come to revolutionize the whole way we market. However, these examples can be taken as the firestarters of content marketing as we know it today.
Having trouble creating engaging content?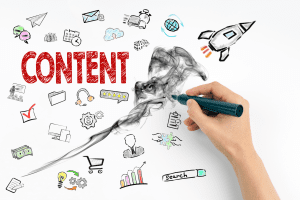 If content marketing still sounds overwhelming to you, don´t worry. We got your back. No matter whether you want to start:
An awesome blog that drives a lot of traffic
A content marketing campaign on Facebook, Twitter, Instagram or LinkedIn
Curating content that stays relevant to your customer personas
Creating content to raise brand awareness
We can totally help you!
Check out our blog management and community management services now.
What's your experience with content marketing? Comment below. We want to know.