A little bit of history
Primark's selling journey began in Ireland in 1969 under the name "Penneys". In fact, the company still runs under the same name in the region. Their first store opened in Dublin.
Since customers responded super well to this very first shop, the brand opened for new stores within one year.
In the beginning, all the shops were in the Greater Dublin area. However, the brand expanded rapidly. In 1973, it moved to England.
Primark is one of those brands that took advantage of the fast-fashion phenomenon that started in the 1990s. At that time, clothes were produced under a meager cost in Asia, where the prices of garments plummeted.
The brand grew when it started to buy stores from other established chains. That was the case with CBA, Littlewoods, and Woolworths.
In 2006 the brand ventured out of its traditional UK/Irish base into the overseas market. They started trading in Madrid, Spain.
Primark offers an extremely wide variety of goods. From beauty products, accessories, and apparel for all family members, to homeware, confectionery, and footwear too.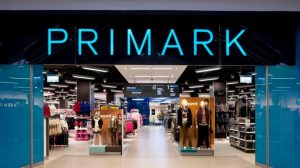 Image Credit: Emerging Europe
But what is fast fashion?
The reason behind Primark's increasing popularity was its ability to provide "fast fashion" for its clients. That means trends that are on the catwalk are almost immediately turned into affordable clothes. Outfits that an average person can wear.
The brand optimises upon some particular features of the supply chain by allowing the latest fashion trends to be produced quickly in a highly cost-efficient manner. This way, mainstream consumers can buy these hot trends at the lowest price possible.
It's vital for Primark's business model that the brand can quickly offer new products to meet the consumers' ever-changing demand for new trends – but on a tight budget.
Some controversies around fast fashion
The fast fashion movement is not without its controversies. The "slow fashion" or "conscious fashion" movement arose to oppose it. These countermovements believe that fast fashion is to blame for environmental pollution.
Did you know that in order to meet the increasing level of consumption, developed countries are producing more and more clothes each season?
For example:
The United Kingdom's textile consumption increased dramatically by 37% from just 2001 and 2005.

The USA annually imports more than 1 billion pieces of garments from China.
These consumption trends are closely linked to pollution, because statistically speaking when more clothes are bought each year, more are also discarded. And this leads to waste.
In addition, there are also allegations that fast fashion contributes to poor working conditions in developing countries.
A sweatshop, for example, is used to refer to those factories where people work in extremely tough conditions, are exposed to health and safety hazards for very low wages.
All of this happens to keep production costs low.
Stores
Primark has stores in eleven countries across North America and Europe, including France, Italy, Germany, USA, Portugal, and Spain.
Currently, it's the UK that operates the most Primark shops present at 174 places.
Even the largest Primark store is in the UK (in Manchester). And it has three stories and measures 155,00 sq ft.
Social media marketing
Primark is one of the few modern brands that does not make use of an e-store. This is rare for a brand of such a large scale. But the reason Primark's averse to using e-commerce is that the company's trademark is to offer rock-bottom prices. And thus, it has very thin profit margins.
If it were to start selling online, they would have to take into account the costs of shipping and return as well, which could increase its prices significantly.
The same would happen if it were to transfer these costs to the client. And this could adversely affect its sales and brand identity.
Primark uses social media only as a means of displaying the products they sell.
But over the years, they have learned how to make the best use of the tools each platform provides to their benefit.
Instagram: what Primark does well
The brand makes use of Instagram stories to show their followers how their outlets look like. And also, the products they stock in those stores.
They have also developed their own hashtag: #primania.
The idea with primania is to encourage customers to show what they bought at the store and to post it online. And also, to feel part of an online tribe or community.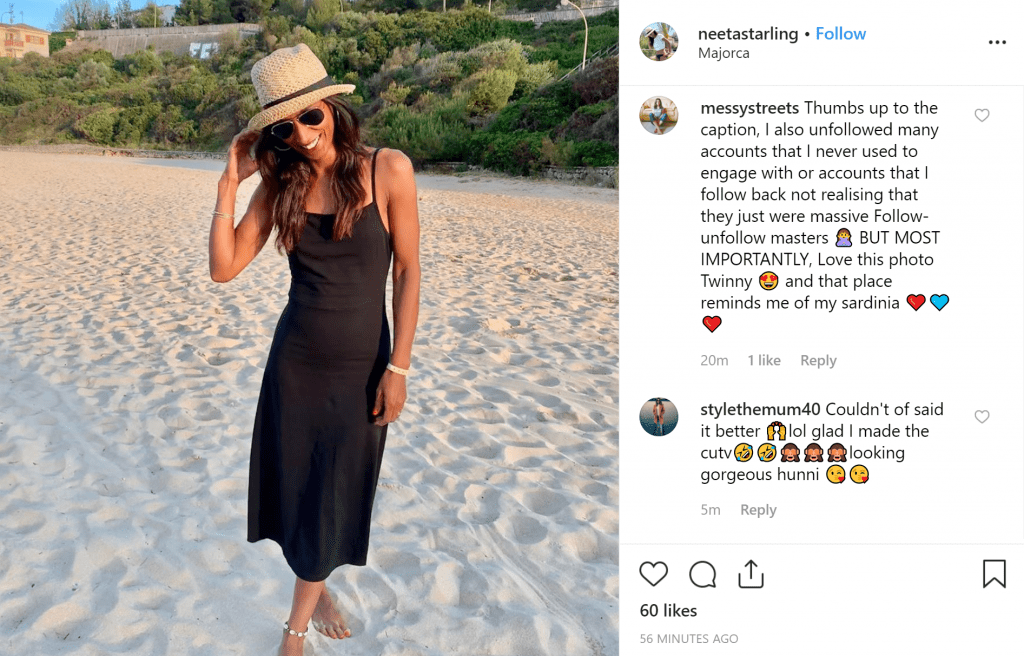 Image Credit: @neetastarling
Here we can see a primaniac sharing her casual look on the beach.
In order to make their posts more attractive, the brand´s also very generous in using hashtags and emojis in them.
How the company uses Twitter
Primark uses emojis in all of its tweets, to give people an idea of what they are about, and they use around two hashtags in every post. They often use their own name as a hashtag as well, along with the word "fashion", so they are featured in niche-related tweets.
They use Twitter as a means of engaging with their followers and answer questions, at times in Spanish, that their customers ask.
They post four or five times on Twitter per day, and most of these include retweets from their clients, who have posted photos of themselves wearing Primark's clothes.
Primark and the giant – Facebook
The brand uses Facebook to post various videos in order to give fashion advice to customers and how they can mix and match their outfits. Their other type of content is pictures of the different products that they are selling and, of course, the latest trends of fast fashion.
They post on Facebook one or two times a day and often use emojis to highlight the main topic of the post. This is also another tool for them to engage with their followers and answer their queries.
It's pinning it!
On Pinterest, Primark organises its posts into boards, as many other brands or individuals do. For instance, they have one board for special occasions like Christmas, and one board for each regular collection on every season.

Image Credit: Pinterest
Do you want to use social media like Primark? Don't worry if you don't sell clothes.

We have social media management for every niche.
Choose your plan according to your goals and budget.
Contact us for further information.
(We're here to help.)
Let the power of affordable social media elevate your business.