prohibiting weight-loss ads"There's a new sticker on Instagram; how the hell shall I use it?" 
"Facebook Ads Manager wasn't used to take a rocket scientist to manage last time I used it, could you please enlighten me?"
"Why haven't we started implementing Twitter's new feature in our promotional campaigns yet?!"
"Did you see that post XXX (a competitor company with a marketer who read this post before you) shared? How did they do that?"
Sounds familiar?
Yes, it does if you're a digital marketer. Friends, acquaintances, colleagues, and finally, bosses – they all see you as their first and last resort when they realise anything unusual in their news feeds.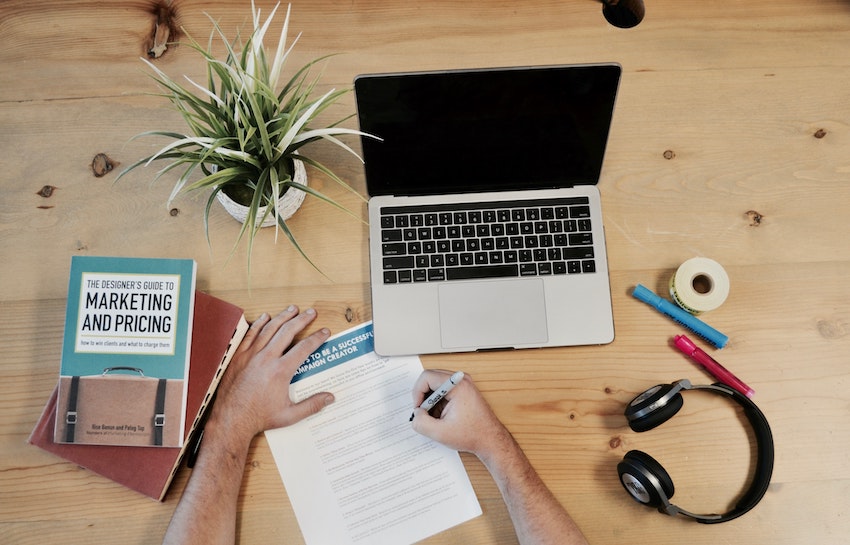 Let me expose you a harsh truth:
If you've ever claimed to be a digital marketer, you better be aware of all the social media updates and news (even before they're officially announced, if possible) from the slightest changes such as YouTube showing real-time subscriber counts to the fundamental functionality or product launches just like WhatsApp testing calls in their desktop apps.
Well, I can't help you with the confidential social media updates and news that is yet to come, but we can manage to get them as soon as they're released (at least before your surrounding starts asking weird questions).
Below are the quick recaps of each month's social media updates and news with a full article link for more detailed info.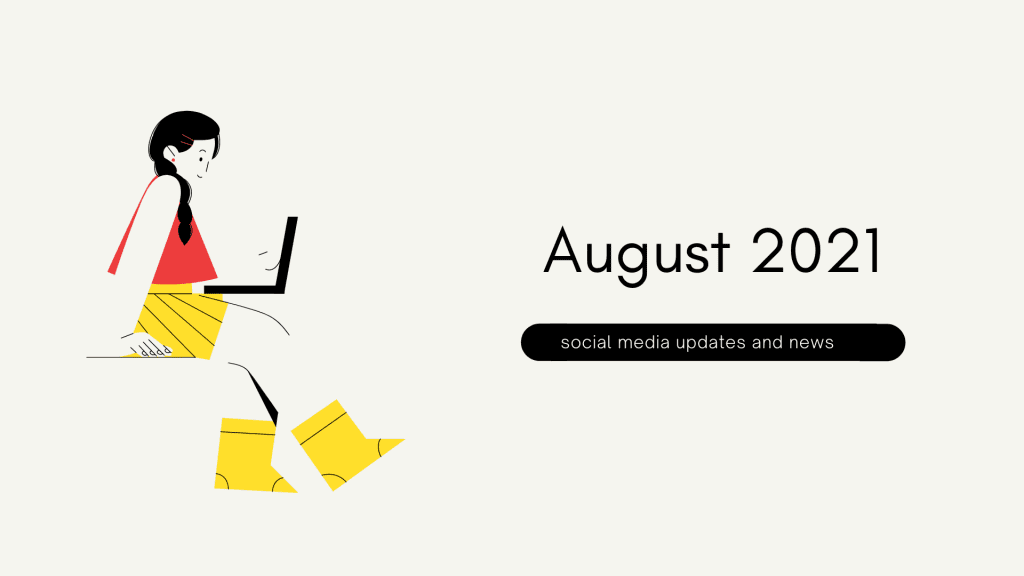 August Social Media Updates and News – 2021
Facebook: Prayer request feature; Reels in the main app.
Clubhouse: The Clubhouse is not just for invitees; 600,000 active rooms.
Instagram: Link Stickers instead of Swipe-up links; Additional protections for users under the age of 16.
Pinterest: Prohibiting weight-loss ads; Shoppable video pins.
Snapchat: Creating 3D emojis

.

WhatsApp: Transferring Chat Data Between Android and iOS Devices; Disappearing Images and Videos.
TikTok: Even longer video uploads; New Shopify Shop Tab for Merchant Profiles.
Twitter: Co-hosts are now accessible on Twitter Spaces; Twitter's Fleets are leaving; 'Leave This Conversation' option.
YouTube: Subscription approach for the middle tier; Video chapter listings in search results.
LinkedIn: Grad's Guide to Getting Hired in 2021; Reviews and ratings for user.
Learn more about August 2021 social media updates and news.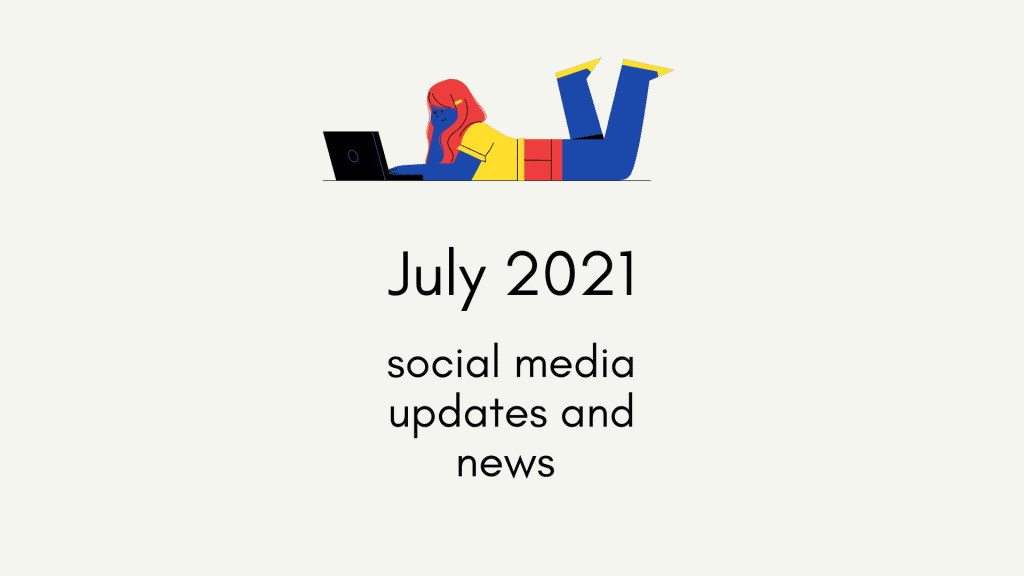 July Social Media Updates and News – 2021
Facebook: $1 billion seed-funding for creators; Marketing Analysis and Software Development Certificate; Facebook users can tag products in group posts; Future focus areas.
Instagram: No longer a photo-sharing app; Collaborative updates; Stories text can be automatically translated; Story drafts; "Re-Share" sticker.
TikTok: Sponsor relevant trending organic content; Rewind and fast forward; Schedule events on live streams; TikTok going offline; TikTok Resumes.
Twitter: Vocal Effects options in Twitter Spaces; Upvote and Downvote reactions; Revamping TweetDeck; A new image format
YouTube: "Super Thanks" tool.
LinkedIn: "Fundamentals Certification" and "Marketing Strategy Certification".
Learn more about July 2021 social media updates and news.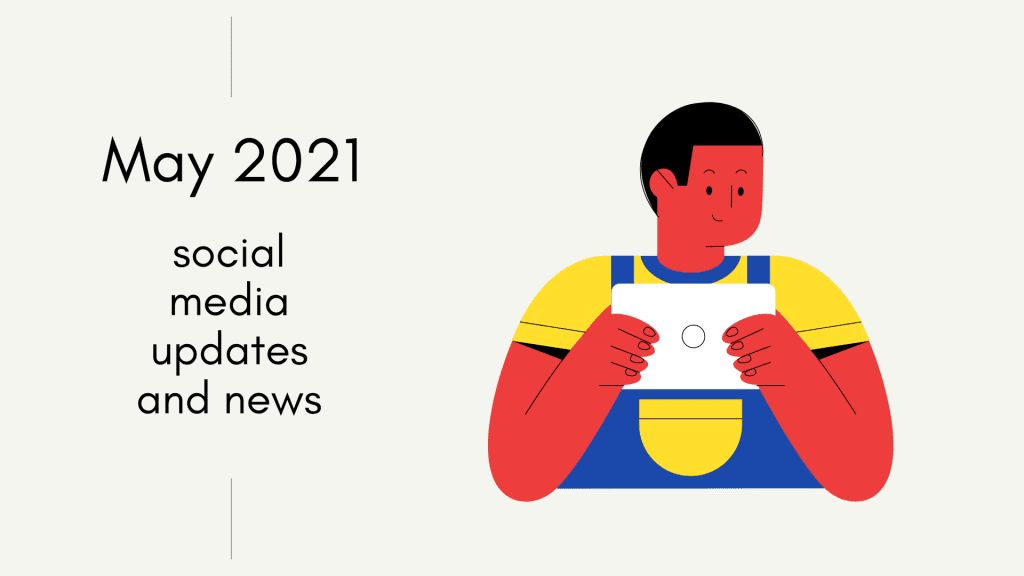 May Social Media Updates and News – 2021
Instagram: Expansion of Instagram Reels Ads; Pronoun options in Instagram; Replica; Drops.
Facebook: The end of clickbait headlines; Solution of discovery problem; Expansion of Neighborhood.
TikTok: Preview option.
Twitter: The pause on accepting requests; Twitter blue; Facebook-style reaction emojis; Ticketed Spaces.
Pinterest: Different kinds of Stories.
Clubhouse: New Android version.
Learn more about May 2021 social media updates and news.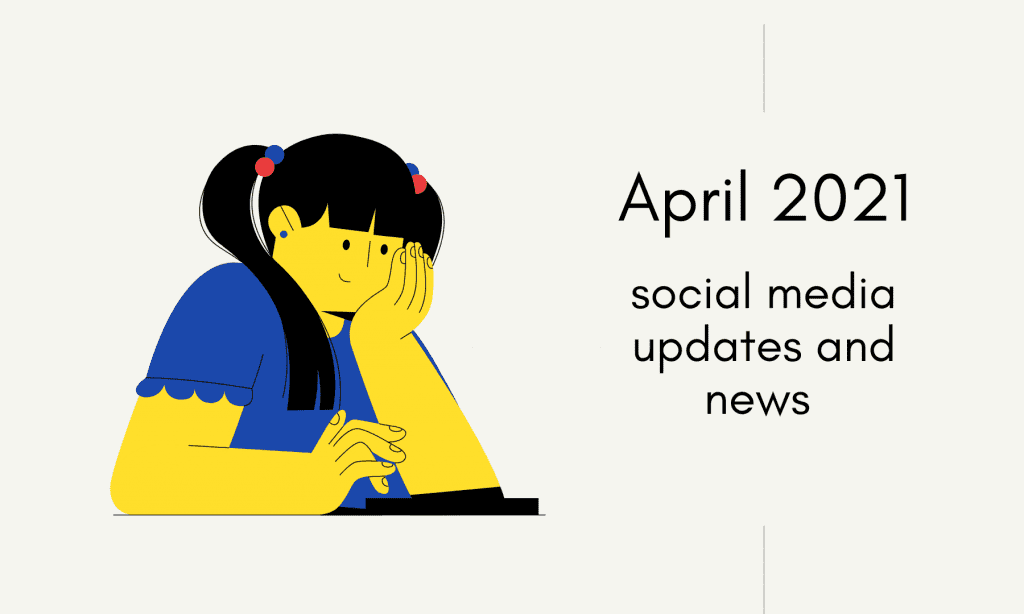 April Social Media Updates and News – 2021
Facebook: Breach or hack?; Comments Up and Comments Down.
Instagram: Getting mixed with Clubhouse: "Hotline"; Latest design updates.
Clubhouse: Just a year old, worth four billion dollars.
TikTok: 6 new interactive trends; TikTok and Snapchat collaboration.
Learn more about April 2021 social media updates and news.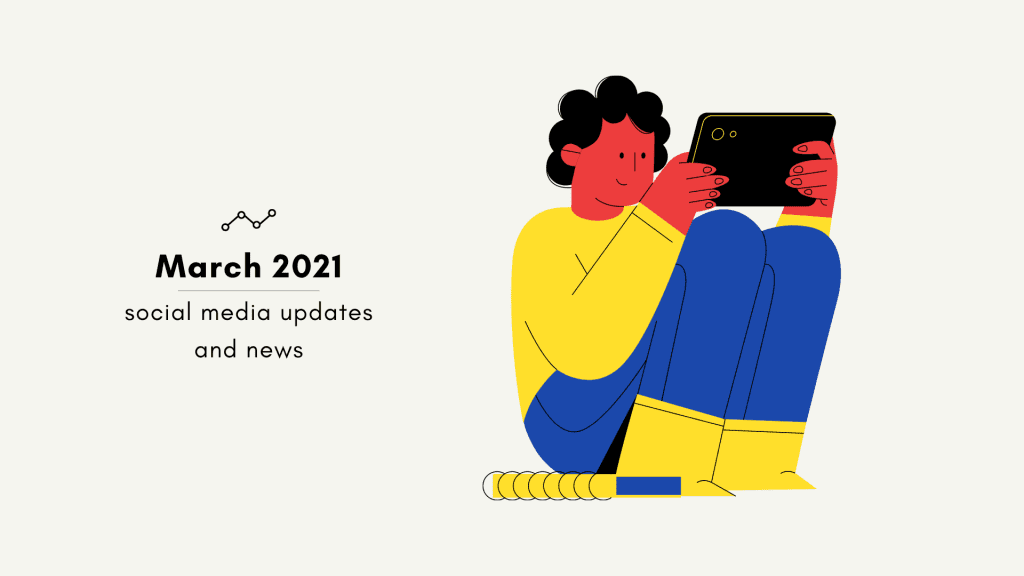 March Social Media Updates and News – 2021
Instagram: IGTV coming to the UK and Australia; Liking questions on Live videos; DMs through comments; Kids version.
Facebook: Bye-bye Facebook Analytics; Tagging rules in comments in FB groups; Pinning posts on personal profiles.
TikTok: Playlist feature; Messaging Bot for businesses; TikTok Q&A is now available to all.
Twitter: Community Tools; Facebook reactions emojis may soon be on Twitter.
Pinterest: Skin tone range is now available in more countries; New marketing tools.
LinkedIn: Video Cover Story; Creator mode.
Youtube: No more dislike counts.
Learn more about March 2021 social media updates and news.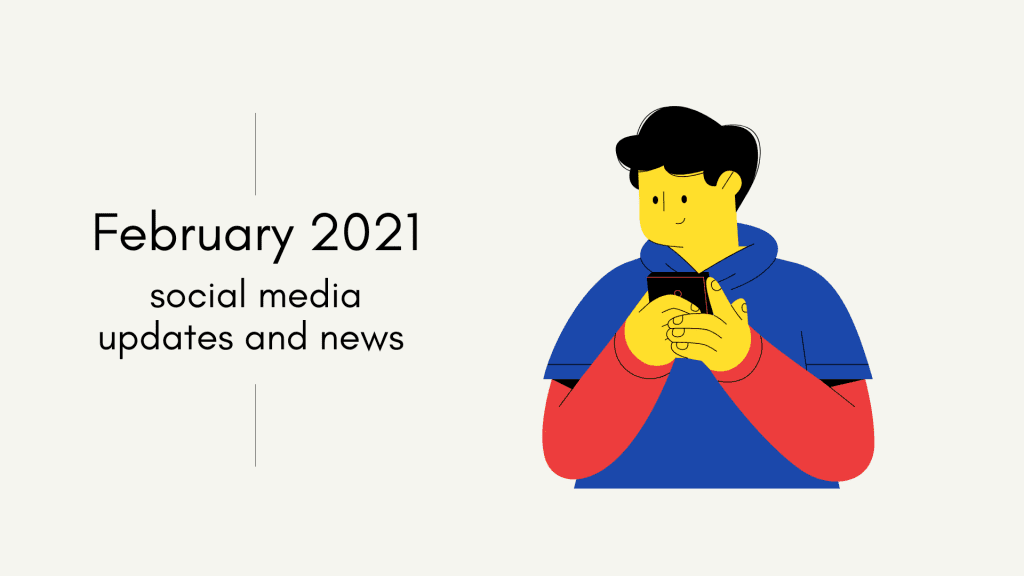 February Social Media Updates and News – 2021
Instagram: Vertical stories; "Recently deleted" recovery function; FAQ function for everyone; Blocking multiple people.
Facebook: Instagram Reels on Facebook; New project for freelancers and self-employed writers; Fewer politics appearing on the news feed.
TikTok: Recipe card via integration with Whisk.
Twitter: Government account labels for more countries; Voice messages in DMs; Subscription fee; Paid Super Follows.
Snapchat: New customer targeting: 13- to 24-year-olds.
LinkedIn: The new creator program; Sales Insights; New freelance marketplace.
Youtube: TikTok style videos.
Learn more about February 2021 social media updates and news.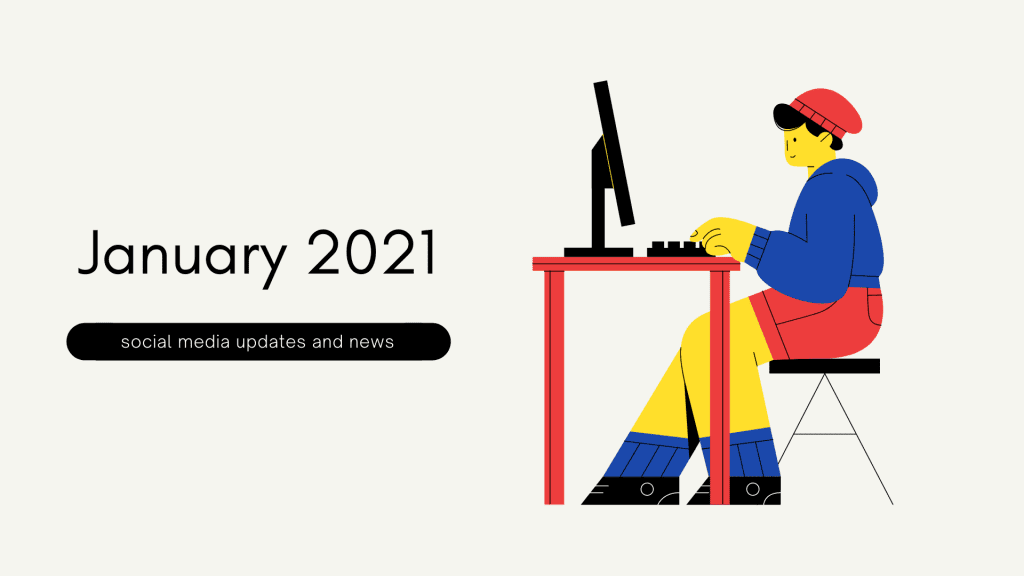 January Social Media Updates and News – 2021
Instagram: New Desktop Stories design; Unhiding like and view counts; Reels on Facebook.
Facebook: Removal of like button on pages; Farewell to "Our Story" section of pages; Short videos.
Whatsapp: Privacy term scandal; Operational problems.
TikTok: Updates to Duel and Stitch features; New Q&A feature.
Twitter: Verification sign requirements updates; Suspension of Donald Trump's account; New Birdwatch feature.
LinkedIn: Invite to follow; Swipe-up links in Linkedin stories.
YouTube: Voice commands for navigation, searching and playing; Buying products from videos (testing).
Learn more about January 2021 social media updates and news or keep scrolling for historical activities.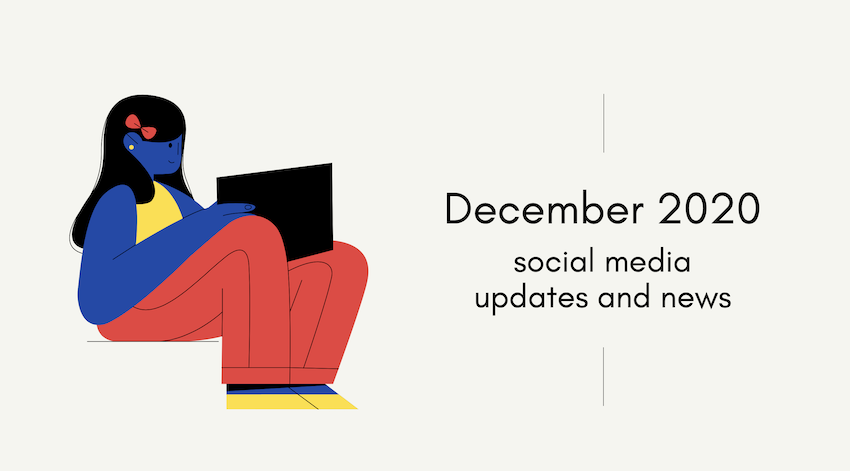 December Social Media Updates and News – 2020
Instagram: Keyword search; First shoppable Christmas catalogue; Live Rooms; Adding shopping tags to reels.
Facebook: Disappearing mode; Updates for Group Admins; Disabling some features in IG & FB Messenger in Europe.
Whatsapp: Shopping cart.
TikTok: Text-to-speech feature; Refreshed Community Guidelines.
Twitter: Improved ad format; Testing for its new audio "Spaces" feature; Listing biggest tweet trends of 2020.
Snapchat: Bitmoji Paint – multiplayer online painting game; Twitter integration.
Pinterest: Notes to self.
Learn more about December 2020 social media updates and news or keep scrolling for historical activities.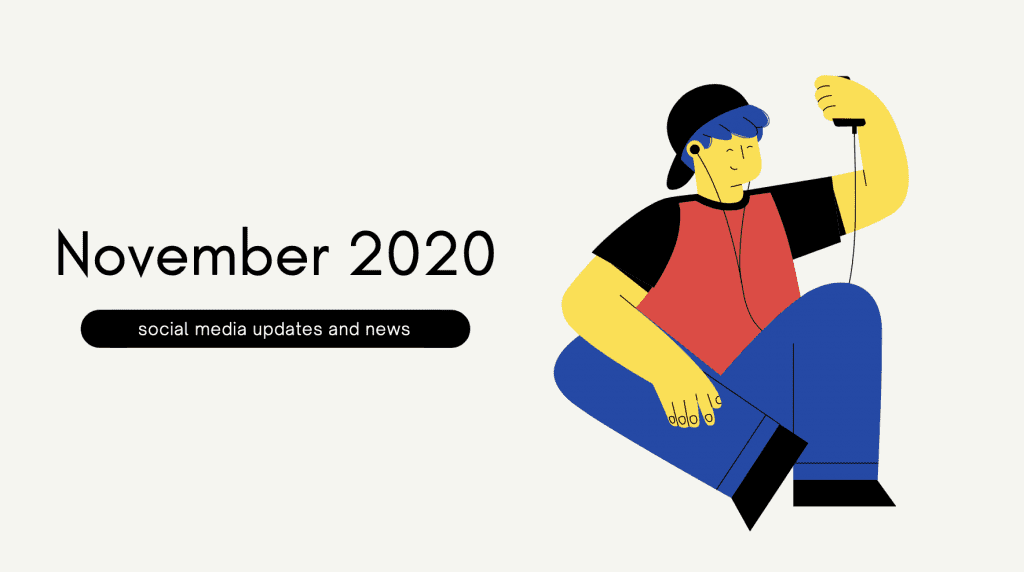 November Social Media Updates and News – 2020
Instagram: Cross-Platform Messaging for Instagram Direct and Messenger; Redesigned homepage and menu; Instagram Guides; Vanish Mode for Messenger and Instagram Direct.
Facebook: No more 20% text limit on ad images; Shopping Engagement Custom Audiences; Adding Product Tags to Instagram ad posts; Facebook Shops Discount feature.
Whatsapp: Increased shopping accessibility; Facebook Hosting Services.
TikTok: Integration with Shopify.
Twitter: "Fleets" is now available worldwide.
Snapchat: You can now add Sounds to Snaps; a "Spotlight" feature.
LinkedIn: The launch of Stories worldwide.
Pinterest: New ad placement options on the platform; Updated Catalog feed; Featuring merchants in Discovery; Improved Shopping; Product tagging; New promotion option – Collections.
Learn more about November 2020 social media updates and news.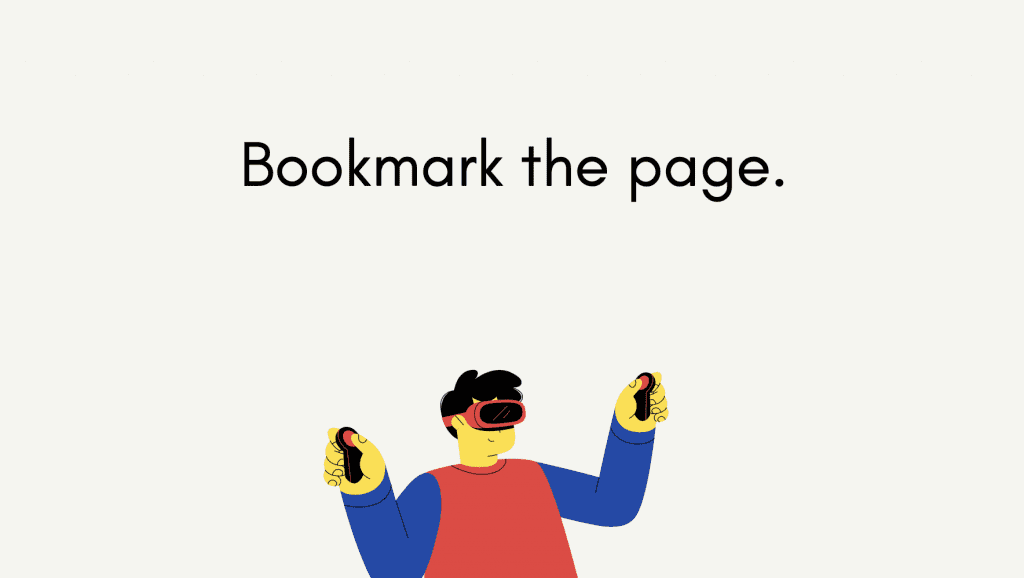 Hey… Hey. Hey!! Wait. Before you leave…
Make sure you bookmark this page so that you can easily come back later to find answers to people's upcoming questions related to the social media updates and news.
Now, if you've already bookmarked, you're free to go. For now…
---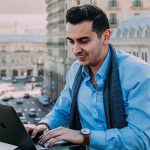 Kamran Shukurlu is a SaaS Content Writer & Copywriter specializing in Digital Marketing Automation Software. 7+ years of writing and creativity. A few of the past clients: Leo Burnett, Translated, Airbnb, Samsung, Huawei, Mirinda, etc.
All author posts